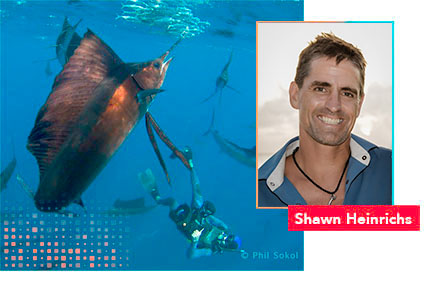 Shawn is an internationally acclaimed
photographer, Emmy Award winning
cinematographer, and dedicated conservationist.
I am a storyteller and imagery is my medium. I am obsessed with the visual sense and addicted to the art of capturing powerful images. My passion is to capture through my camera's lens what my soul experiences through my eyes, an enhanced version of reality, order in chaos, focused, isolated and profound.
My love of the oceans fuels me and I am captivated by the grace and beauty of the marine life within it. Recognizing that people only protect what they love; I am on a mission capture inspiring and dramatic imagery that connects the global community to the beauty and vulnerability of threatened marine species. And through this connection, I hope the world will ultimately share my passion for these creatures and be inspired to act before it is too late.
My work has taken me to the corners of the planet in pursuit of my passion: from Africa to Asia, the Americas, the Caribbean and even the remotest atolls in the Pacific. My stories and photographs have been featured in the worlds leading print and online publications including: National Geographic, BBC, WIRED, Smithsonian, New York Times, Huffington Post, Washington Post, CNN, Origins, Alert Diver, Scuba Diving, Asian Diver, Asian Geographic and many other leading dive magazines, and numerous other print and online publications. I work directly with and deliver projects for many of the top marine conservation organizations including WildAid, Shark Savers, Conservation International, The Manta Trust, The Nature Conservancy, Virgin Unite and Pew Environment Group.
See more of Shawn's work at: www.bluespheremedia.com
The Wild Exposure is an innovative project by photographer Shawn Heinrichs and a talented team of collaborators. Our aim is to redefine how the world views threatened marine species. People only protect what they love—and recognizing this, we have set out on a mission to bring the beauty and vulnerability of marine life to mainstream audiences across the globe. We are creating a series of exclusive images that combine graceful human subjects in surreal ocean settings, interacting with charismatic marine life. These images will be used to fuel a new wave of curiosity and appreciation for the oceans and alert the global community of the immediate need to conserve them.
Underwater Artists / Models
Hannah Fraser
Hannah has been an ocean activist and underwater performance artist for over a decade, putting her life on the line to create groundbreaking imagery to inspire ocean conservation around the world. Her work has focused on large marine animals, swimming in the wild with Tiger Sharks, Whale Sharks, Manta Rays, Dolphins and Humpback Whales to bring awareness to the dangers threatening them through over fishing, destructive fishing, pollution and sonar testing.
Roberta Mancino
Collaborating Photographers
Taro Smith
Creative Assistants
Fazli Krasniqi
Julia Chavez
Pangeaseed